About the company
Cleaning company "Cleaning - Service" (Kiev)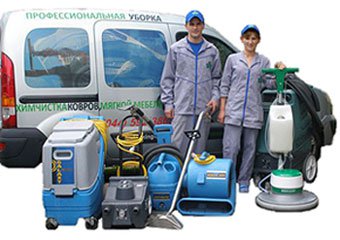 Fast-moving pace of modern life and constant lack of time don't allow to regularly keep clean in rooms by own efforts. The similar situation can be observed not only at offices of the big companies where work dozens of employees, but also in the private sector. It is simply inexpedient to spend precious time of the day off for cleaning up.
Nowadays the most reliable easy way of keep clean – the cleaning company as a part of which an order, purity and a luster are directed by highly qualified specialists. They both will qualitatively wash windows, and will carefully clean carpets and in general will make practically everything that is required for the real cleaning.
The cleaning company "Cleaning-Service" for over 14 years provides professional cleaning services such as: a dry-cleaning of soft furniture, a dry-cleaning of carpets, window cleaning, industrial climbing, cleaning up after repair, cleaning of offices, etc.
The cleaning company "Cleaning- Service" uses the professional cleaning equipment to high-quality cleaning.
Professional equipment of the "Cleaning-Service" company
Carpet machines "EDIC", "MYTEE" (USA) represent the universal equipment which is used not only to collecting garbage and dust, but also to processing of strongly polluted surfaces by the special washing composition which under pressure is sprayed on carpets and soft furniture. At the same time detergent at once is removed by absorption, but already together with mud parts. Carpet machines are equipped with capacious tanks for large volumes of works.
With the help of rotary machines "NUMATIC" and "EDIC" the washing of firm floors and also cleaning up of carpets and industrial carpet is made.
Dry cleaning up of rooms is carried out by the professional Italian vacuum cleaners LINDHAUS which have the big suction force, tremendous maneuverability and the lowered noisiness. Some models are equipped with electrobrushes for processing of carpet pile.
Washing of windows and facades at the height up to 20 meters is carried out by means of the productive washing "Water-Fed Pole" system consisting of a set of telescopic bars with brushes and the service equipment for clarification and water supply on big height.
Special equipment and professional chemistry
For high-quality work our experts use the various telescopic mops-swep equipped with mops from microfiber, convenient holders with flaunder and the capacious cleaning carts allowing to make all procedures for cleaning with the maximum effect without loss of time.
Cleaning of various surfaces by our experts is carried out by means of professional chemical tools "Prochem" and "Chemspek" (USA). The extensive catalog includes the various washing, polishing, disinfecting agents and agents which remove spots. Besides we use special antistatics, shampoos, primers and protective compositions.
Personnel of the "Cleaning - Service" company
In our company highly qualified specialists work. Despite wide practical experience, personnel regularly improves their skills on various trainings and the training courses. It allows to fully master the new equipment and to be aware of all novelties in the cleaning sphere. Each worker truly care about his reputation and a reputation of the company therefore they do everything properly and in the stipulated terms.
Rent and sale
Except various cleaning service of rooms the cleaning company "CLEANING SERVICE" carries out sale and leasing of the professional harvest equipment. Moreover, "Cleaning - Service" - the exclusive distributor of the companies "MYtee", "EDIC" (USA). On all equipment the guarantee and pre-sale consultations on service is provided.
To order cleaning services in Kiev and also to obtain additional information, call by telephone: (044) 592 38 63
Cleaning company "Cleaning - Service"